May Shaker is the girlfriend of the player in the
Dating RPG
.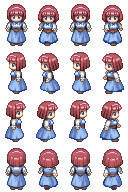 Personality
Edit
May is apparently energetic. She is known to be very intelligent for her age, as she pays attention in class, while others goof off. She hardly has any friends, only the player and a piano player.
However, she is difficult to please, as if she sees her boyfriend (the player) get beat up, she dumps him without a second thought, immediately triggering a Game Over.
However, despite that attitude, she does help the player if his stamina is starting to run low, by giving him some water to drink. This ability makes her seem like somewhat a healer.
Ad blocker interference detected!
Wikia is a free-to-use site that makes money from advertising. We have a modified experience for viewers using ad blockers

Wikia is not accessible if you've made further modifications. Remove the custom ad blocker rule(s) and the page will load as expected.